At YNNO we practice what we preach. We work in a new way and know it can improve our performance. Our consultants can share with you the practical realities of new ways of working through their direct experience. We call that living by example.
Our work is completely mobile and digital with the latest ICT applications. Our consultants choose their own IT client equipment and are able to fully collaborate, communicate and knowledge share in their virtual environment. Our IT systems are based on cloud computing. The way we work together and our work processes are entirely geared to this concept.
Our new office, Creative Valley, was jointly designed by other residents and the developer to offer up a space that exemplifies the new way of working ethos and identity. We also operate an innovative meeting concept called Youmeet to answer the demands of our clients for innovative, results oriented meeting space aligned with YNNO's new way of working philosophy.
We have a culture of entrepreneurship, innovation, and team spirit where clearly defined outcomes and learning are valued. Each consultant is encouraged to create his or her own identity.  We know this is important to our clients and so we place great emphasis on that goal.
Come visit us for inspiration and see how new ways of working can work for you!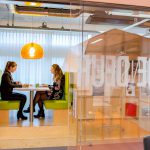 ---